Friends! I shared with you last week a little bit that Drew and I are house-hunting like mad… which means all I can think about lately is what my kitchen is going to look like. I'm taking a short break from food today and diving into the kitchen. For today's post I've partnered with Lowe's to share affordable, budget-friendly kitchen updates. I'm super excited! 
As Drew and I continue to look for houses one thing is certain–the kitchen comes first. 
Okay, maybe not FIRST… but it is VERY high on the priority list. We've been looking at several styles of houses–fixer-uppers, move-in ready, and everything in-between–and I can't say I've fallen in love with any of the kitchens. Which I suppose isn't too surprising–everyone has a different style. But that just means we will definitely be looking to make some updates, or possibly even get into a little remodeling. Yes, Mr. FMK is thrilled *wink wink*
What I have to remind myself is to think in terms of little projects, that will  then add up to create the big picture. Thankfully Lowe's has an awesome website with tons of ideas to get you started with some affordable projects. I've been browsing their website the past couple of weeks and am getting excited–so many ideas!
Five Budget-friendly kitchen updates to get started on
The backsplash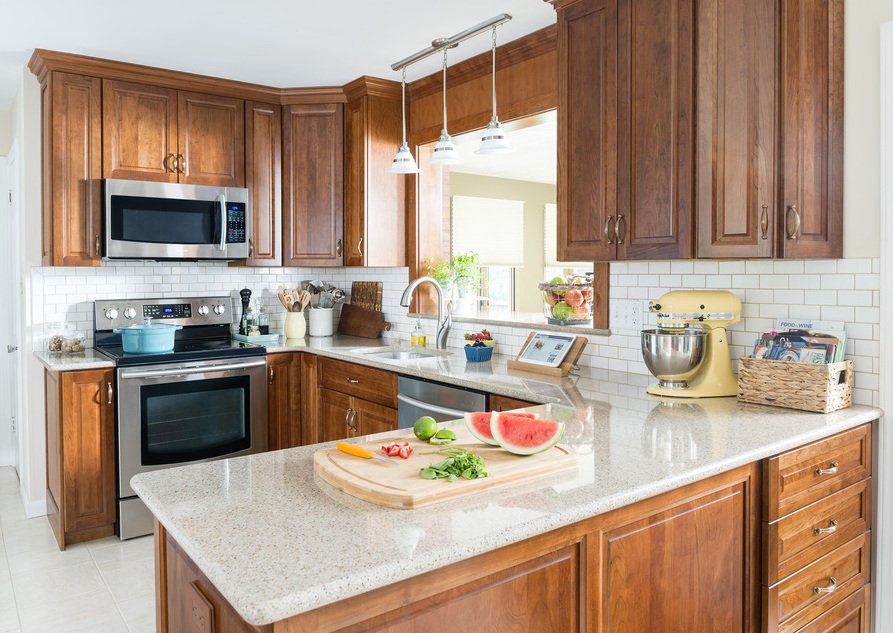 The backsplash is definitely a must when making kitchen updates–in my opinion. Out of the various homes we've looked at, I always notice the backsplash, or lack thereof. It's the perfect accent that does wonders for the overall look and feel of your kitchen. I love the texture and look of this white tile in the above image–gives off such a fresh vibe!
I'm secretly hoping that the house we buy doesn't have a backsplash so I can add this pretty white one in. 
Countertops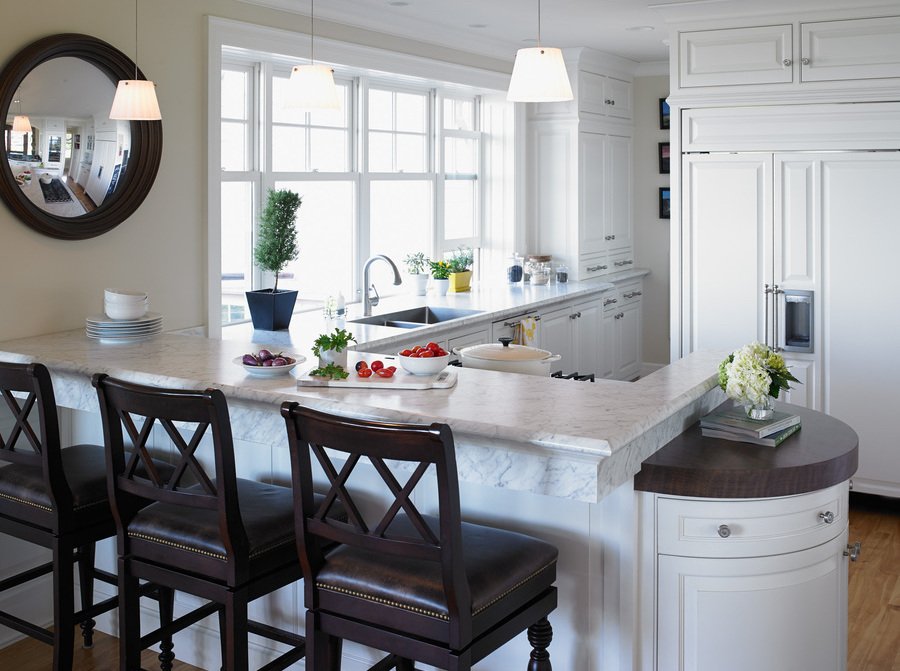 Countertops are actually more affordable than you think. The countertop pictured has a marble look, but it is actually laminate. The Formica brand (linked above in the image) makes so many different finishes. Going with laminate countertops versus granite could be an affordable option if looking to transform your kitchen on a budget.
Still being in the house hunt mode, it is hard to say what type of countertop situation we'll find ourselves in. Right after we put in our first offer on a foreclosure a couple of months ago (that we didn't get) we found ourselves killing some time at Lowe's checking out the kitchen models. I remember the granite countertops looking beautiful (duh) but was pleasantly surprised at how nice the laminate countertops looked! I think it is safe to say we'll be going that route if  we end up needing to replace them.
DIY Painted Cabinets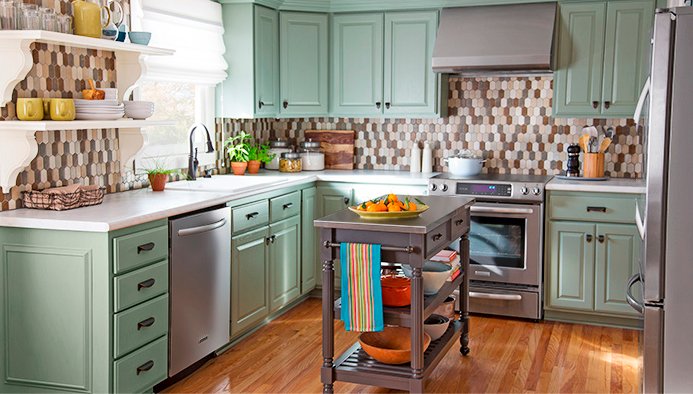 How did you know I was going to pick a shade of blue for my cabinets? … 🙂 Well, I suppose we aren't there quite yet. But I am a fan of this look! And painting your kitchen cabinets can save you thousands of dollars. It may take a little time but totally worth it, especially if the cabinets are in good shape to begin with. The above image is a great example of just how much of a difference painting your cabinets completely transforms the look and feel of the kitchen. Click here to see the before and after.
Has anyone painted their kitchen cabinets before? In the early stages of our house hunt I would continually say to Drew, "Yikes, those cupboards…" And while I originally thought the cabinets would have to be replaced, I didn't realize that painting the cabinets could turn out so great. Not to mention affordable. 
Sink & Faucet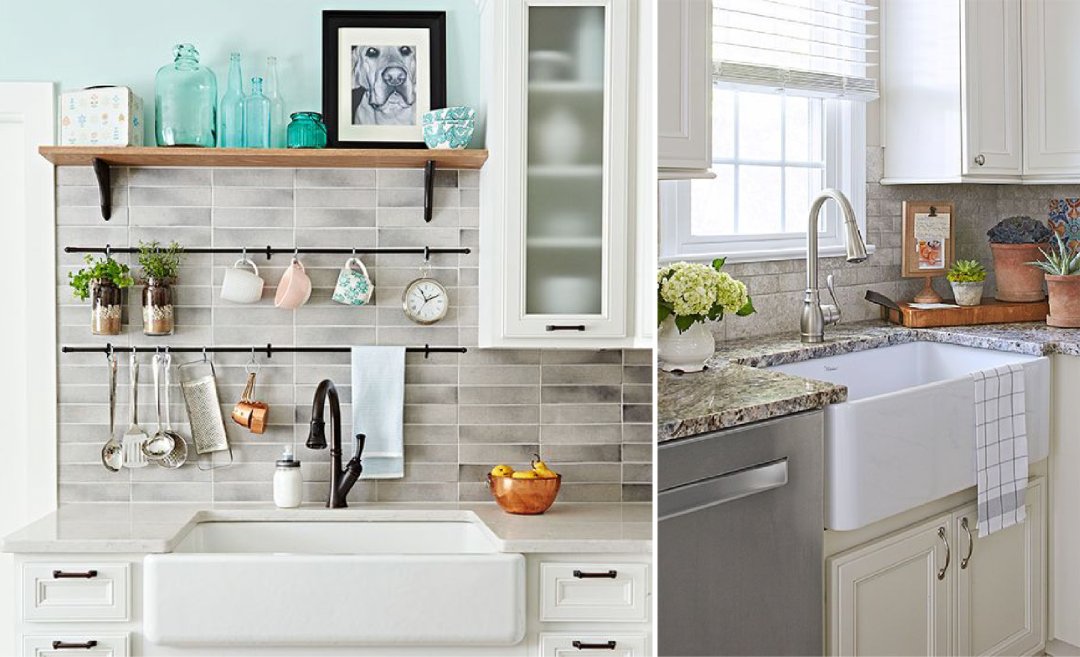 I'm kind of loving these cute "farm" sinks. What do you think? This would be an update I would love to make. It completely transforms the style of the kitchen. Even if the sink and faucet were one out of three of the updates, it would make a big difference.  While browsing all of the kitchen inspiration on Lowe's, I noticed a trend in my style preference–definitely love the updated farmhouse look. Plus it seems to be a big trend right now.
Open Shelving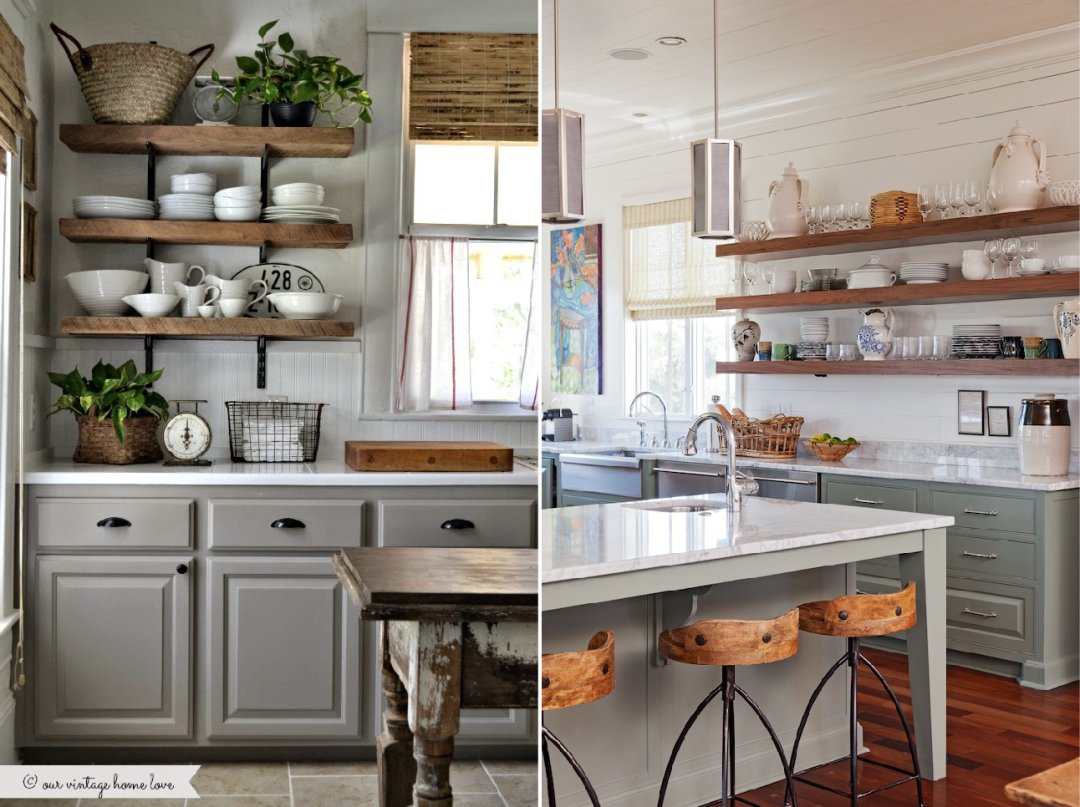 left image source. right image source
Open shelving creates loads of space, especially if you have a smaller kitchen. You can use the shelving for functional use, or more decorative. Depending on the size of your kitchen, it might be worth it to find a place to incorporate this look.
There were several kitchens in the homes we've looked at so far that felt a little tight. But after seeing these open shelving ideas, it would definitely be a possibility to remove some end cabinets to create some space for the open shelves. And it's a fairly easy DIY project–depending on the handy people you have in your life I suppose.
Don't forget, Lowe's is having a 40% off kitchen & bath event sale, running until March 23rd. They have a great team of specialists to help you with planning so you can stick within your budget.
Let's chat
Are you planning any kitchen updates this spring?
Have you done any similar kitchen updates? Any words of advice?
I'm actually excited at maybe finding ourselves in a position where these kitchen updates are necessary! (Mr. FMK is excited too…)
This post is sponsored in partnership with Lowe's. Thank you so much for supporting the brands I trust and have the pleasure of working with, making Fit Mitten Kitchen possible.
---
Save
Save
Save
Save
Save